Anisa Kasiri, DDS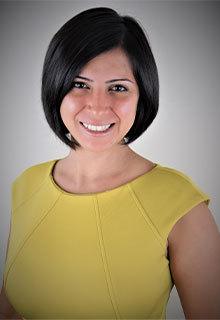 Dr. Kasiri obtained her Bachelor of Science degree in biology from Virginia Commonwealth University and completed her Doctor of Dental Surgery degree at New York University College of Dentistry, where she also received her Invisalign® certification. She further advanced her dental studies and completed her General Practice Residency at Lincoln Hospital, affiliated with Cornell University, in New York before moving back to Virginia.
Dr. Kasiri is an active member of the American Dental Association® and a pre-fellow at the Virginia Academy of General Dentistry. She has been volunteering with Virginia Mission of Mercy projects that are conducted in underserved areas of the state.
She is an avid runner and violinist, and she enjoys bicycling, long walks and swimming with her 4-year-old son and her husband. A fun fact about Dr. Kasiri is that her parents are educators and she spent many days at her parents' school volunteering and teaching, where she developed an abundance of love and passion for children and youth.
Dr. Kasiri loves what she does, and she makes dentist visits happy and stress-free for her patients. The most rewarding aspect of her work is to see her patients satisfied with their dental work.