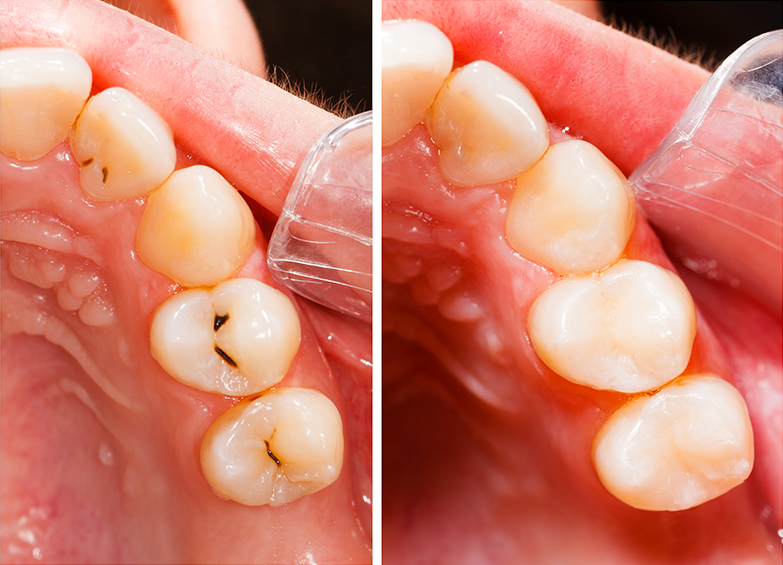 At John J. Andre, DDS & Associates, our dentists frequently recommend composite resin, or tooth-colored dental fillings to restore the function of your teeth and protect them from further damage while preserving your tooth enamel and helping you maintain a natural appearance. To learn more about tooth-colored dental fillings and to make your appointment with Drs. Andre and Hall, please call our practice today at 804-346-8330 for our Glen Allen location or (540) 967-0777 for our Louisa location.
In the past, patients with cavities had to depend on amalgam fillings – a restoration that is typically silver or grey in color. While these fillings restore the function of your teeth and protect them against further damage, they adversely affect the appearance of your smile. Our dentists use tooth-colored filling materials to provide a conservative, naturally beautiful result.
Dental fillings are often used to repair minor to moderate damage to your teeth caused by tooth decay, fracturing, or chipping. Fillings can be placed in just a single appointment at one of our conveniently located offices. Our dentists will remove the decayed or damaged portions of your tooth, and clean the affected area. They will then apply the composite resin directly to the tooth, shape it to match the contours of your tooth, and use a curing light to harden it in place.
We invite you to contact our office today to learn more about composite dental fillings and set up your appointment with our dentists.