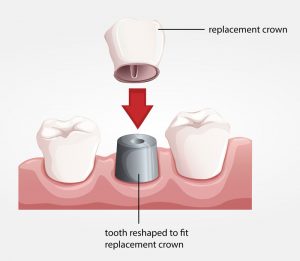 If your teeth are broken, decayed, or otherwise damaged, Drs. Andre and Hall can provide you with a custom-made dental crown to restore the form and function of the tooth and of your smile. Please call John J. Andre, DDS & Associates at 804-346-8330 for our Glen Allen location or (540) 967-0777 for our Louisa location to schedule your consultation with our dentists and learn more about dental crowns.
Dental crowns, or caps, are custom restorations that fit over the top of damaged or decayed teeth, covering the tooth to the gum line to restore the function and appearance of the tooth. Crowns can serve a number of different purposes, including:
Protecting a tooth after a root canal
Anchoring and attaching a dental bridge
Covering a dental implant to complete your restorative treatment
Improving the appearance of a misshapen tooth
Strengthening and supporting a tooth that is fractured, severely decayed, or weakened
Supporting a large filling when very little of your natural tooth structure is intact
Enhancing the appearance of your smile
When you receive a dental crown, you should plan to visit our practice two times. During your first visit, our dentists will prepare you to receive a dental crown. The decayed or damaged areas of your mouth will be smoothed out to allow the crown to fit comfortably and securely. Impressions will be taken of the area, and of your full bite. These impressions will then be sent to our trusted dental lab, where your customized restoration will be created. Once the crown is complete, you will return to our practice to have the crown affixed to your tooth and bonded into place with dental cement.
To learn more about the benefits of dental crowns, please contact our office and make an appointment with our experienced dentists.