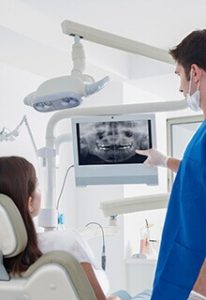 The American Dental Association recommends that patients visit the dentist two times each year for dental cleanings and exams. These preventive dental checkups help to maintain your oral health, and give our dentists the opportunity to diagnose and treat dental health issues such as gum disease or tooth decay in their earliest stages. To learn more about dental cleanings and exams in Glen Allen and Louisa, Virginia, and to make your next appointment with Drs. Andre and Hall, please contact John J. Andre, DDS & Associates today at 804-346-8330 for our Glen Allen location or (540) 967-0777 for our Louisa location.
When you visit our office for a dental cleaning and exam, our dentists and team will:
Clean your teeth, removing any plaque or tartar to help prevent tooth decay and gum disease
Floss and polish your teeth
Examine your teeth for any signs of decay, disease, or other damaging dental conditions
We will use dental X-rays during your appointment to further evaluate your smile and make sure that no problems are developing in areas where we cannot visually examine, such as your roots or between the teeth.
Please remember that regular dental cleanings and exams are essential in maintaining good or health. These routine visits help you avoid cavities and gum disease, and ensure that you can receive any necessary treatments as quickly as possible.
To make your next appointment for a dental cleaning and exam, please contact our office today. We are eager to help you preserve and protect your smile!