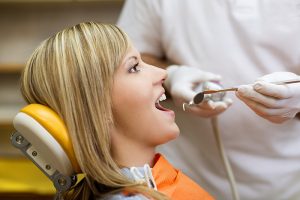 Welcome to John J. Andre, DDS & Associates! Our experienced dentists and dedicated team are looking forward to meeting you at our dental office in Glen Allen and Louisa, Virginia. We know that one of the best ways to help our patients keep a smile on their face from start to finish is to prepare them for what they can expect when they visit our office, especially during their initial appointment with Drs. Andre and Hall. Our new patient visit includes 4 steps:
Preparation – We will take the time to review or complete your new patient forms and health history. We will also discuss your oral health with you to determine what your concerns and smile goals are, and get to know you so that we can provide you with better service.
Diagnostics – Our dentists will take x-rays and perform a visual examination and assessment of your smile. We will screen for the most common oral health concerns, including tooth decay, gum disease, bruxism (teeth grinding and clenching), TMJ (jaw joint) disorders, and oral cancer. We will also check your past dental work to see how it's holding up within your smile.
Cleaning – Twice a year our dental professionals will thoroughly clean every surface of your teeth and gums. We will also make recommendations for changes in your at-home oral hygiene routine, and answer any questions you may have about oral hygiene products or your current dental health.
Consultation – During this one-on-one visit with one of our skilled dentists, we will discuss with you any concerns you may have about your smile, and anything that our team might have discovered earlier in your appointment. We will go over our recommended treatments, and will work with you to develop a plan to perfect your smile.
Patient Forms

If you have questions about your first visit to our practice, please feel free to contact our office at 804-346-8330 for our Glen Allen location or (540) 967-0777 for our Louisa location. We will be happy to answer your questions and provide you with any additional information you may want.