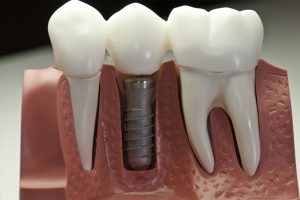 We offer numerous tooth replacement options for our patients at John J. Andre, DDS & Associates. The most versatile of these options are dental implants. Using dental implants, our dentists and team can replace a single tooth or a full arch of missing teeth to restore your smile. We invite you to contact our office today at 804-346-8330 for our Glen Allen or (540) 967-0777 for our Louisa location location to schedule your consultation with Drs. Andre and Hall and learn more about the benefits of dental implants.
There are 3 steps to the dental implant process:
Preparation – Our dentists begin your implant process by taking 3D digital scans and bite impressions to map out the ideal placement and positioning of your implant posts prior to your surgical implantation. These records are also sent to a dental lab to create your custom tooth restorations. We may also need to remove damaged teeth or provide treatments for other oral health concerns, such as gum disease or TMJ disorders.
Implantation – The surgical placement of one or more titanium implant posts is a safe procedure for patients who are able to undergo minor medical treatments. The procedure itself takes about an hour. Our dentists will make a small incision in your gum line, and the implant post will be place within. Over the next several months, the supportive bone and gum tissues will regrow and bond with the titanium post to provide your implant with support. This process, known as osseointegration makes implant-supported restorations very stable and long lasting.
Restoration – Once your dental implant post has fused with your jawbone and the surgical site has healed, you will return to our practice to receive your restoration. Depending on the number of teeth that need to be replaced, our dentists will provide you with a bridge, crown, or partial and full dentures.
There are many benefits to implant-supported restorations. When you receive dental implants, you will notice that your implants are:
Natural feeling – Because the implant posts restore the root structures of your teeth, the entire restoration looks and feels more natural. The stimulation from the implant posts also mimics the function of your teeth, helping you maintain your bone density and gum tissue volume. The securely anchored replacement teeth can restore your ability to chew up to 70% when compared with traditional full and partial dentures, and there's never a need to damage healthy dental structure, as is required with dental bridges.
Durable – Implant-supported restorations can last for decades when properly cared for. Unlike traditional dentures and require regular maintenance and break down your oral structures, dental implants support your oral health, and require only minimal adjustments or repairs along with proper dental hygiene and preventive care.
Comfortable – Traditional dentures place excessive pressure on gum tissue, which can sometimes cause severe discomfort. The support implant posts remove this pressure from your gums, making your restoration much more comfortable.
The only one way to know if you are a candidate for dental implants is an implant consultation. During your consultation, our team will examine your jawbone density and gum tissue volume in order to determine how successful a dental implant restoration would be in restoring your smile. If we determine that dental implants are the right option for your smile, we will create a personalized treatment plan to replace your missing teeth with sturdy, natural looking and feeling dental implant supported restorations.
If you have questions about dental implants, please contact us today. Our team will be happy to provide you with more information and help you schedule your consultation with our dentists.